My Workshop
My metalworking workshop occupies about half of a single garage. It is uninsulated and the only heating comes from an electric radiator which is connected to an Energenie remote controlled socket. I have a Raspberry Pi connected to the house via wifi that serves two functions:
Allows remote control of the Energenie socket so I can turn the heating on-and-off remotely using an app I wrote for my Android phone.
Uses the camera and a modified version of this motion detection script as a security system - all photos are published online so that I'll still have them if someone steals the Raspberry Pi!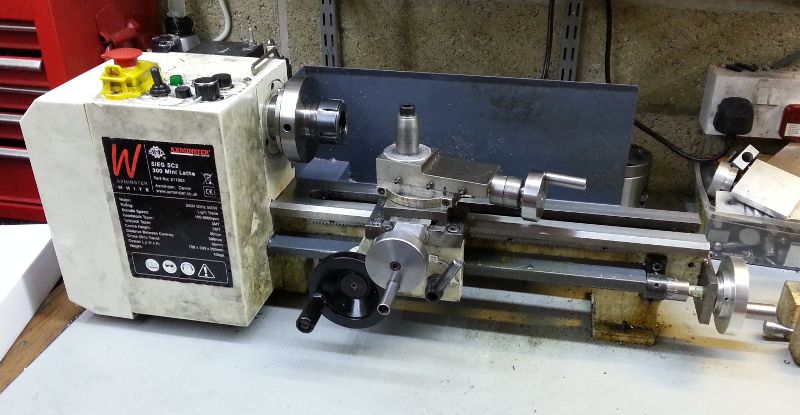 My first lathe was a mini-lathe: the Axminster Sieg SC2. It is made by Sieg Industries and is what is known as a "7×12" lathe. I bought the lathe in December 2011 (just before Axminster put the prices up by 20% - phew!) and this was my first experience of metalworking. I've made quite a few modifications to the lathe to make it easier to use and more capable.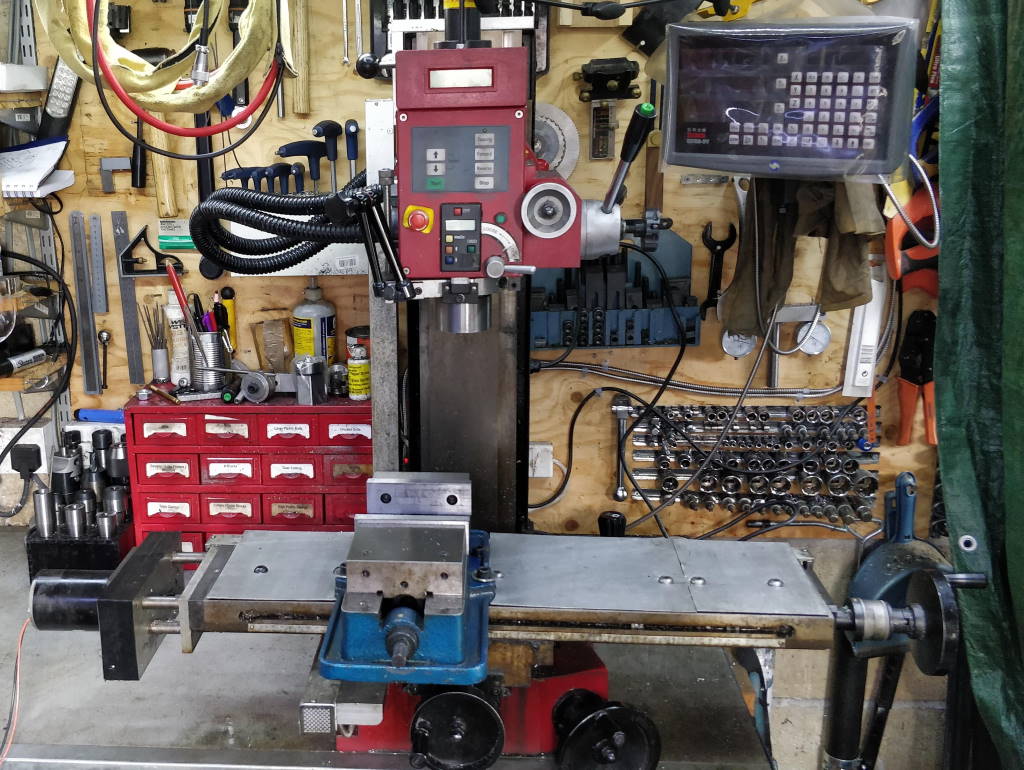 I bought my milling machine much more recently (August 2014) than my mini-lathe. I'd found I was reaching the limits of the capabilities of the lathe relatively often, so I waited until I could afford a more powerful milling machine before diving in. The milling machine is a Sieg SX3 with an R8 taper, bought from arceurotrade when they had one of their periodic offers on (lots of free tools thrown in).
There's some information on the modifications I've made to the milling machine on this page.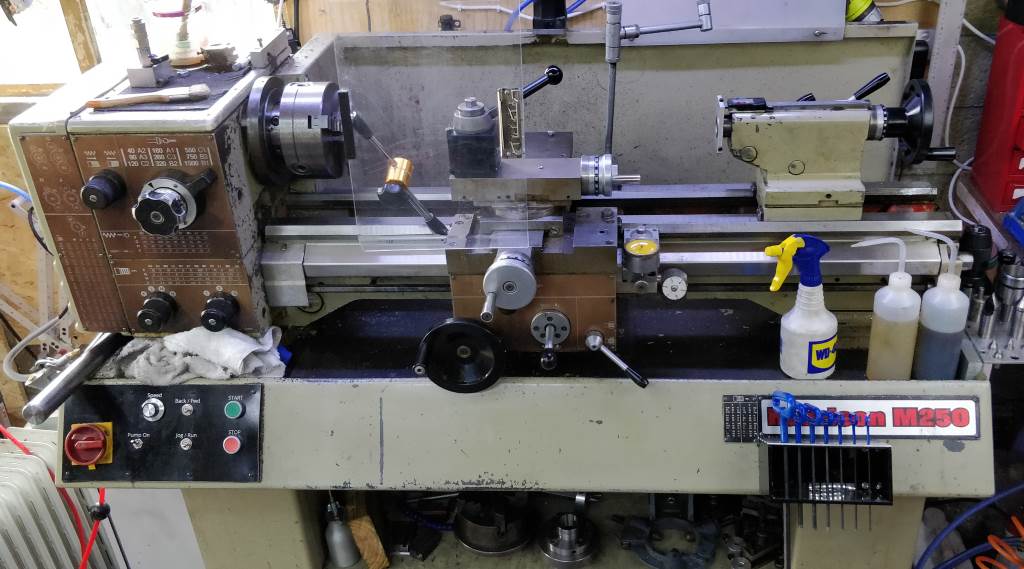 After having the mini-lathe for about six years, I was finding it a bit small for a lot of the turning that I was trying to do. In November 2017, I bought a second-hand Harrison M250 lathe, which is much more capable than the little Chinese bench-top one.
There's some information on some of the things I've done with the M250 on this page
The Pillar Drill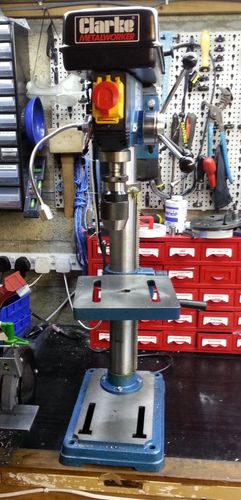 Fairly soon after buying the lathe, I borrowed a basic pillar drill from my father. I ended up keeping hold of this for about two years, but eventually I had to return it! To replace it, I bought Machine Mart's CDP10P. The only modifications I've made to this so far are a 1 W LED gooseneck light on the side and a new locking handle for the table.
The bandsaw is a Machine Mart 6×4.5" horizontal/vertical bandsaw that I bought second hand on ebay for about £70. In many ways you could see why it was less than a third of the normal retail price, but it does what I need. I added a simple end-stop to the bandsaw and modified the mechanism for tightening the drive belt, but for the first 8 years of ownership that was about all I did with it apart from cut! In late 2019 and early 2020 I started a project to restore the bandsaw to its former glory. The result is shown in the photo on the right; you can read all about it in the bandsaw section of this site.
The bench grinder is a 6" bench grinder from Machine Mart that I bought in a sale. Modifications to the grinder are documented here.
Workshop Lighting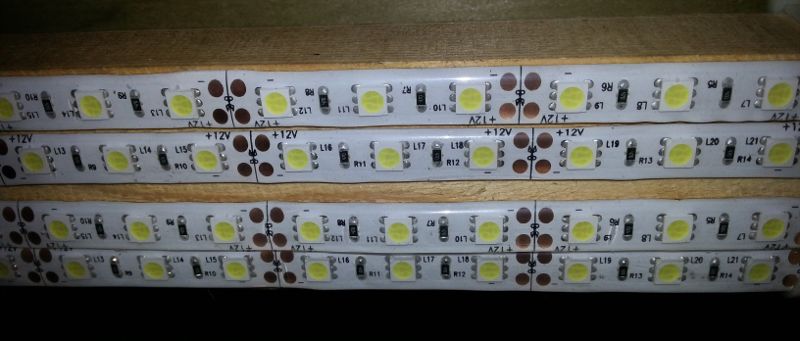 Light in the workshop is, obviously, essential. Getting enough light to be able to see everything you need to see clearly everywhere you're working isn't easy, but I've found that a brilliant (pun intended) and cost-effective solution is to use strips of white LEDs. The strips I bought are 5 metres long and each strip has 300 "5050" (this refers to the size of them: 5 mm by 5 mm) cool white LEDs. I have one of these strips running back and forth above each of the benches in my workshop and I rarely need any other lighting as they're so bright. The only places I have added lighting are a few 1 W LED gooseneck lights that I've mounted on some aluminium blocks with some 20 mm × 10 mm NdFeB magnets in the back. These give some focused lighting for detail work on the rare occasions when the long LED strips aren't enough.
The LED strips can be bought on ebay for about £15 including power supply (probably cheaper if you shop around). Search ebay for "LED 5050 5m cool white" and you'll get lots of options.
---
This website is free, but costs me money to run. If you'd like to support this site, please consider making a small donation or sending me a message to let me know what you liked or found useful.